Humane Prison Hospice Project is developing a humanitarian, cost-effective, and restorative justice solution to ensure that those aging and dying in prison receive compassionate care.
What can I do? How can I help?
These are but a few of the questions we hear when we share with the public the issues surrounding the lack of end-of-life care for people experiencing incarceration in the US carceral system.
While the problems may seem daunting, there are specific things you can do to help get the word out into the community as well as take on an active role in either volunteering or even jumpstarting a peer-involved end-of-life program in a prison near you.
Below you will find some helpful websites, and a step by step blueprint for locating a community hospice in your area, locate the prisons within your region, and how to responsibly move forward in either establishing a prison hospice program and/or participating as an active volunteer in a program already established within your local prison.
The following instructions are general suggestions as you will soon become aware that every state and every prison within that state is a unique entity unto itself.
Locating a community hospice near you and finding a prison in your area are only the first steps in a long but fruitful process of working with your community hospice in establishing a peer-involved hospice program in your local prison.
Three primary places to focus on initially:
RESEARCH what is currently available in your local prisons and what efforts have been made in the past.
DEVELOP a relationship with the prison community by volunteering with an established group who is currently working with the prison you are interested in engaging with.
PARTNER with hospice organizations and individual end of life caregivers (death doulas) to both raise awareness and create a sustainable community effort towards the goal of establishing a palliative care program in your local prison.
Research
Researching what is currently available in your local prisons and what efforts have been made in the past.
Map out the prisons in your State: usa.gov/corrections
Using the pulldown menu, find your state on the menu. Press GO.
The next website that pops up is usually your state's Department of Corrections main page — none of which are even remotely similar when comparing states to one another.
Some State Departments of Corrections pages are full of useful information, while others provide scant information requiring additional sleuthing skills in order to get to the information you are looking for.
Locate the menu heading on your states main doc page that may say Prisons, Facilities, Locations.
This will usually take you to a listing of all of the facilities in your state. There may be an actual map on this page giving you the lay-of-the land in your state of correctional facilities. You will notice that some distinctions are made between juvenile facilities, adult facilities, minimum, medium, maximum security facilities and the like.
Find the prison nearest to you and the map and go to that prison's website page.
Once on the page of the nearest prison, you may see a list of services, groups, and programs that are offered to the prisoners at that particular prison.
Find out which ones have medical facilities on site, and which ones send residents out for medical care. Prisons with existing medical facilities will be more capable of creating a hospice program than prisons without a health care system in place.
Additionally, most prisons will not have an end-of-life program, and should they actually have one onsite it is rarely listed as one of the services offered to their population. Consequently, further investigation on your part will be necessary.
Most of the time, if a prison is either classified as a minimum or even medium security facility, advanced medical care such as hospice, end-of-life care, palliative care is not offered as members of the population in these prisons are on track to be released. Again, that is not always the case as there are always exceptions to the rule. However, it can be assumed that most prison hospices will be housed in maximum security prisons by and large.
Prisons rarely list medical personnel on their webpages and you will ultimately need to find the contact information of either your states DOC or your particular prisons CRM or PIO (title varies from state to state)
Find out which prisons are Federally funded, State Funded or Private For-Profit. This is important when developing strategies for financial support and/or funding and may also impact which hospice agencies can work with them.
To find FEDERAL PRISONS and information about programs and services offered to their prisoners held in these facilities, click here.
Develop
Developing a relationship with the prison community by volunteering with an established group who is currently working with the prison you are interested in engaging with.
Identify who in you local prison(s) you are interested in contacting:
The first person to contact is the Community Resource Manager (CRM), or in other prison systems the Public Information Officer (PIO) they are responsible for scheduling volunteer programs and arranging necessary clearances. They may be able to give you a list of the programs currently operating at the prison.
Once you have a list of the programs, take the time to learn about the programs and consider reaching out to one or two that inspire you. Volunteering for an established program within the prison will give you experience with the prison culture as well as an opportunity to go through the process of getting clearance to go inside.
This is also an excellent way to learn about what is or is not happening inside regarding health care and end of life care. It is much more impactful to suggest a program when you have a clear understanding of what is already in place as well as what the actual needs are.
If there is not a CRM/PIO or the CRM/PIO is not able to assist you, the next step would be to reach out to Spiritual Care Programs operating within the prison. They are sometimes willing to speak to interested volunteers.
They may not be able to give you specific information about the prisons healthcare system but they may be able to answer questions about how people are cared for at end-of-life and if there are currently any active volunteer programs for end-of-life care.
The Deputy Warden would be the third contact to consider. Ideally, they can direct you to someone who has information about volunteer programs.
Finally, attempting to contact the medical department directly is an option, but a listing of their contact information on a facility's webpage is extremely rare.
However, if you are fortunate to find their contact information you may be able to ask some general questions about the care that is provided to their terminally ill patients, but this is not the place to inquire about volunteer programs.
Partner
cPartnering with hospice organizations and individual end of life caregivers (death doulas) to both raise awareness and create a sustainable community effort towards the goal of establishing a palliative care program in your local prison.
Organizations and individual caregivers:
Collaborating with people in your community is the best way to create a solid, sustainable program. This is definitely a team effort! Mapping the hospice programs, both nonprofit and for profit, that are located near the prisons or near enough to cover the county in which the prison is located.
A national database of community hospice programs can be found here: nationalhospicelocator.com
The National Hospice Locator (NHL) geo-maps and provides information about every known hospice in the United States, including prison hospices. Find hospices by clicking a state on the map, zooming into the area of interest, and clicking on a hospice pin (on the map) or name (in the list below the map) for detailed information.
Using search options to narrow your results:
When you use the search box on the National Hospice Locator, an auto-fill drop-down box appears to help narrow your search by hospice name, city, county, state, or zip code. We recommend using the state and/or zip code of the area you are interested in.
It is recommended that you first do a statewide search of community hospices in your state of interest. See the results on the MAP and make note of the community hospice programs in your area.
Next, do a broad nationwide search for prisons and correctional and then you can zero in to the state or region of interest by going to the resulting map showing you any prison hospices currently in your state. Specific search for "prison" or "correctional" may be helpful in pinpointing established state and federal prison hospice programs in your area. You may choose how to sort results, zip code is recommended.
Next, reach out to the hospice programs in the areas near the prisons you would like to support and find out the following:
Elements to consider when attempting to Initiate a hospice program in prison:
1. Have they ever provided hospice care or hospice training to the prison?
2. If yes, is it still in operation, is anyone there who was involved? If the program is no longer active, why did it discontinue?
3. If not, would they be interested in learning about prison hospice programs?
4. For hospice programs interested in learning more, you can connect them to Humane directly or consider acting as an intermediary and help set up a viewing of the documentary Prison Terminal with our panel presentation to follow.
a) Are there local death doula professionals working in your area? Have you seen or heard of Death Café's or other end of life social interactions being offered?
b) Are you connected to any spiritual community centers that are engaged with volunteer efforts for the underserved communities in your area?
How to establish a prison hospice
Click here for a printable pdf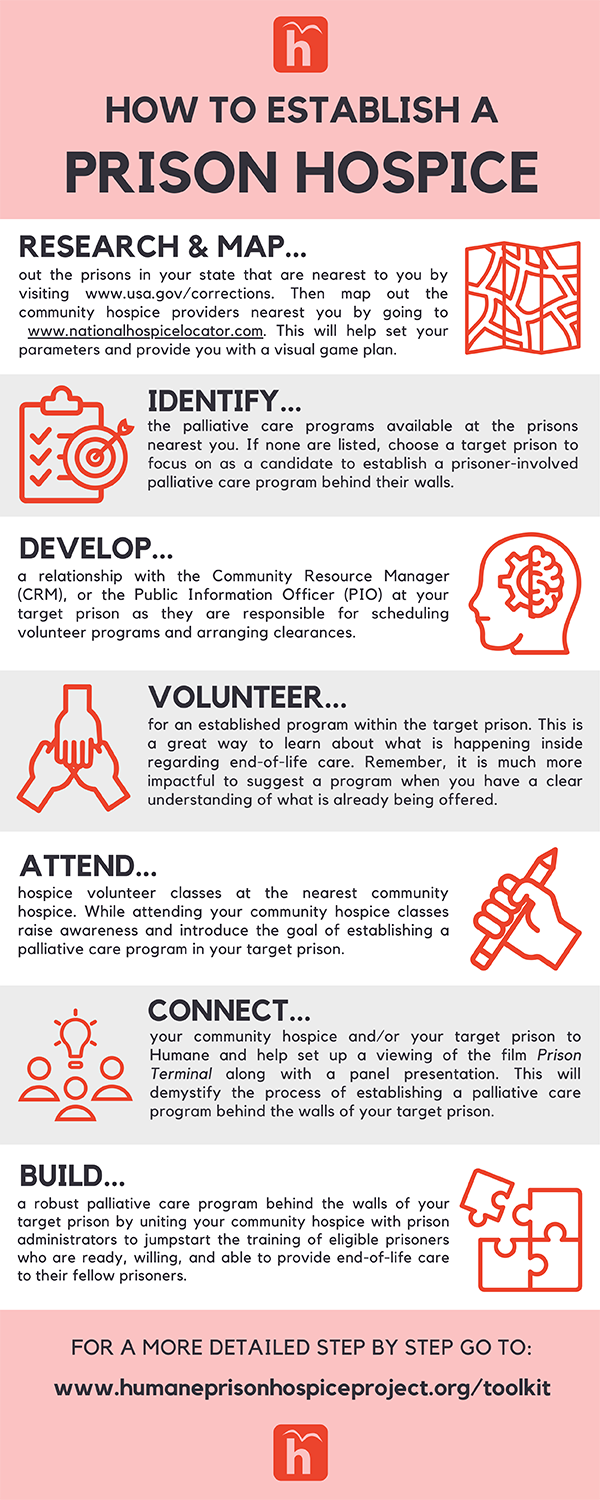 "I'm deeply moved when the men who have completed our Compassionate End-of-Life Care training express what it has meant to them. Recently, one man shared how the training helped him access his own sense of compassion and humanity — things that he didn't understand at the time he committed his crime."